High frequency welded – induction steel pipes
HFW / HFI / ERW
---
Pipes are manufactured according to the requirements of the following standards:
Council Directive CPR 305/2011,

Council Directive 2014/68/UE,

PN-EN ISO 3183,

PN-EN 10219-1/2,

API Spec 5L,

ASTM A53,

PN-EN 10217-1,

PN-EN 10217-2,

PN-EN 10217-3,

PN-EN 10224.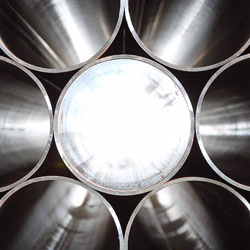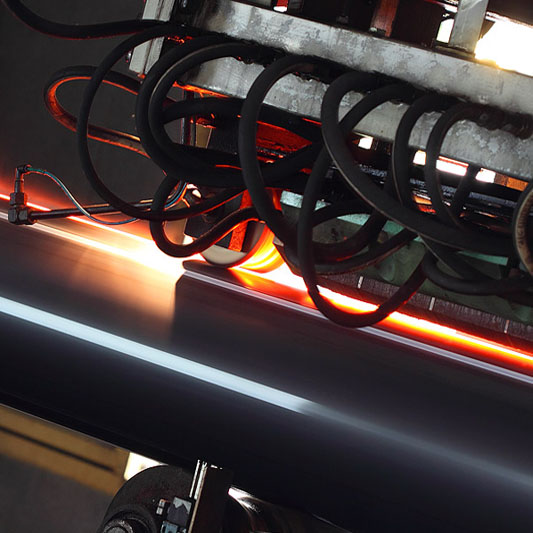 Pipes are manufactured in diameter range from 114,3 mm to 406,4 mm, in production lengths from 6 m to 18 m. Pipes are supplied with plain or bevelled ends, after hydrostatic test and automatic non-destructive ultrasonic or eddy current tests.
During production process the heat treatment is performed to eliminate stresses generated in the seam as well as to guarantee both homogenous steel structure and higher strength properties.
Depending on the required mechanical and technological properties or application, the pipes are produced from the following steel grades:
Upon the customer's needs pipes are supplied as: bare – without protection coating, or with external three-layer polyethylene (PE) or polypropylene (PP) anticorrosion coatings and with internal either cement or epoxy lining. Against agreement pipes may be supplied with other anticorrosion protection e.g. galvanized pipes.
High frequency welded (HFW) pipes manufactured by "FERRUM" S.A. can be successfully used to produce steel fittings including tees, reducers, elbows and bends. Fittings are made by either cold or hot bending process depending on the strength parameters of steel grade as well as the diameter and wall thickness.
Application of welded pipes demonstrates the highest level of excellence in microtunneling, most modern "digging" technique used to construct small tunnels. Completing the microtunneling by application of steel welded pipes provides both minimum im- pact on environment and slight interference with ecological land management.
In 1999 the most modern production line of high frequency welded (HFW) steel pipes and structural hollow sections was commenced into operation. The line was designed by the German enterprise SMS Meer and has an annual production capacity of 120 000 Mg for the specified production mix.
Production programme of HFW / HFI / ERW pipes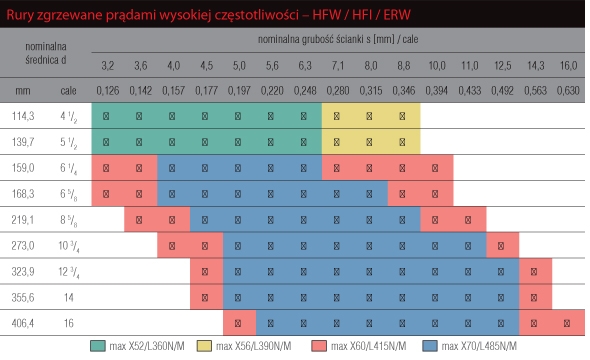 Length of pipe from 6 m to 18 m
Norma / Standart

Gatunek / Grade

API Spec 5L PSL2
Grade B
X42
X46
X52 / X56
X60
X65
X70
PN–EN ISO 3183
L245NE/BN
L245ME/BM
L290NE
L290ME
L360NE
L360ME
L415NE
L415ME
L450ME
L485ME
PN–EN 10224
L235
L275
L355
PN–EN 10217–1
P235TR1/ TR2
P265TR1/TR2
PN–EN 10217–2
P235GH
P265GH
PN–EN 10217–3
P355N /NH
PN–EN 10219-1,2
S235JRH
S275J0H
S275J2H
S355J0H
S355J2H
S460MH
Upon agreement it is possible to deliver pipes according to any other standard or required specification